HELDER is an innovative and luxurious skincare line that is committed to enhancing the natural beauty of every person. They have formulated different beauty collections to add to their catalog of stellar products. They are deal in face wash, face serum, sunscreen serum and sun screen gel by the brand name of "BEFIKAR".
They are committed to provide consumers with high-end and aspirational cosmetic products, BEFIKAR is one of the leading brands in the country with a mission to make its customers feel the best versions of themselves. The company mindfully curates products made of high-quality ingredients that are toxin-free.
They build a fully responsive and SEO friendly E-commerce Website by Swaps Infotech for grow their brand BEFIKAR. E-commerce website help them to get new clients for their high quality beauty care products. Swaps Infotech provide them an appropriate platform where they easily display their beauty and cosmetic products with some of attractive functions and features.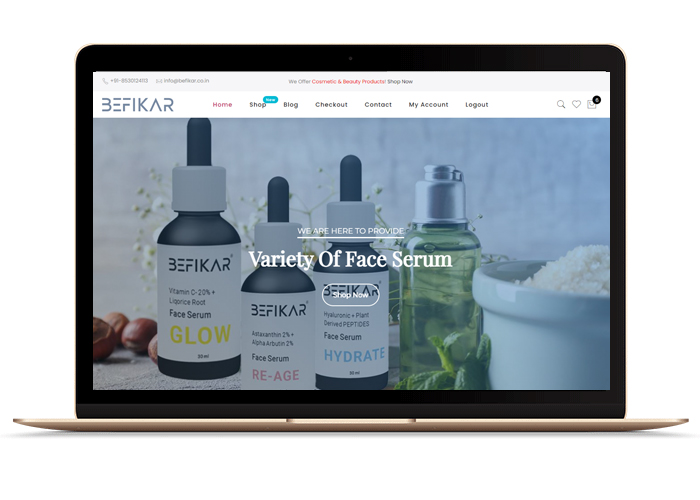 Context and Challenge
When we were approached, the online presence of BEFIKAR was just a concept. A business has to deliver more than just a website i.e. an immersive experience. Our expert team created, designed and developed a brand that aligned with the ideology of BEFIKAR Brand.
Let's take a look of website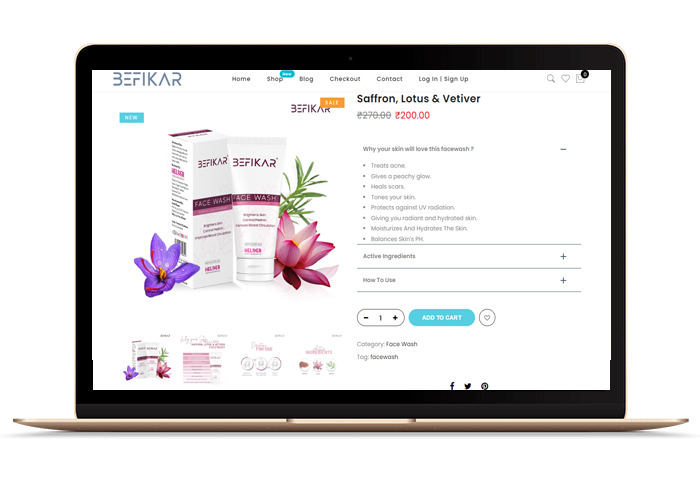 Our Strategy
We decided to develop a website with interactive experience considering the requirements of our client. Our developers develop a high-quality and well functional e-commerce store by including the creative concepts of content management and custom layout design.
What We Deliver To BEFIKAR
We provide an easy user experience and align the needs of the brand
Develop and design a meaningful e-commerce for selling products to customer
Provide Responsive Web Design & to boost overall conversion
Flexible blogging platform to connect with their customers
Responsive Design Of The Website
Here you see Swaps Infotech provide an awesome UI design to our valuable customer. This design is easy to understand and reliable to performance. User can easily understand what they demand and how we fill the fields. Website is loaded with security features and attractive design function with push notification functionality.
Feel Free To Contact Us
Feel free to contact us for web development and digital marketing service.
Website:
http://swapsinfotech.com
Contact Number:
+91-7984771045
Email Id:
me@swapsinfotech.com
Follow Us